Are winter tires mandatory in Europe?
Whether you are crossing the border on a daily basis or planning a trip to Europe in the winter, it's not always easy to know what tire equipment to have. Here is an overview of whether or not you need to equip your car with winter tires across Europe.
Countries where the winter tires are legally mandatory
Countries where the winter tires are mandatory if weather conditions so require
Countries where the winter tires are mandatory only if there is a specific road sign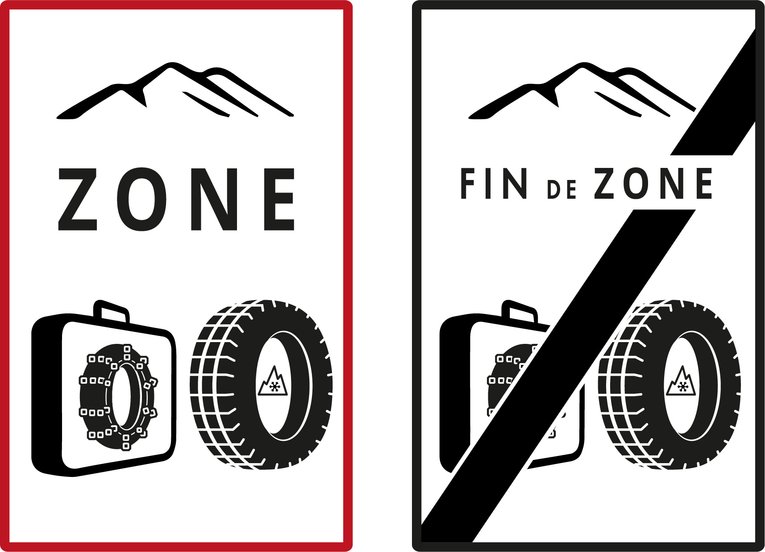 Since November 1st, 2021, new rules for winter gear have applied in France.
In areas determined by two new road signs, winter tyres or equivalent equipment will be mandatory from November 1 to March 31.
Good to know: This rule apply in certain cities, located in 34 "départements" (Ain (01), Allier (03), Alpes-de-Haute-Provence (04), Hautes-Alpes (05), Alpes-Maritimes (06), Ardèche (07), Ariège (09), Aude (11), Aveyron (12), Cantal (15), Doubs (25), Drôme (26), Haute-Garonne (31), Isère (38), Jura (39), Loire (42), Haute-Loire (43), Lozère (48), Moselle (57), Puy-de-Dôme (63), Pyrénées-Atlantiques (64), Hautes-Pyrénées (65), Pyrénées-Orientales (66), Bas-Rhin (67), Haut-Rhin (68), Rhône (69), Haute-Saône (70), Savoie (73), Haute-Savoie (74), Tarn (81), Var (83), Vaucluse (84), Vosges (88) et Territoire de Belfort (90)).
Motorists have to check the websites (in French) of the "préfectures" (local administration) or of the road safety before driving in these territories.
Three types of equipment are allowed:
Four winter tyres, certified "3PMSF" and/or "M.S"/"M+S"/"M&S" (from 1 November 2024, winter tyres must be certified "3PMSF" AND "M.S"/"M+S"/"M&S")
Four "all-season" tyres with "3PMSF" certification
Removable anti-skid devices such as chains or socks for at least two driven wheels
Winter equipment are mandatory for light vehicles , commercial vehicles, coaches, motor homes and heavy goods vehicles without trailers.
Trucks with a trailer or semi-trailer must have a pair of chains for the driving wheels even if they are equipped with winter tyres.
All vehicles are affected, including those registered abroad.
The motorist incurs a fine of 135 euros and the immobilization of his vehicle if the police consider it necessary.
Good to know: From 1 November 2024, only 3PMSF tyres will be accepted as equivalent to chains. It will still be possible to buy and use other "snow tyres", but you will also need to have chains if you wish to drive between 1 November and 31 March in the areas affected by the obligation.
Winter tires are generally not mandatory in Italy. But if there is a specific road sign (decided by a special decree) showing the text: «obbligo di pneumatici invernali o catene a bordo», the vehicle has to be equipped with snow chains or winter tires during the period shown on the road sign (usually from 15th November to 15th April).
Exceptions:
In the Aoasta-Valley winter tires are mandatory from 15th October to 15th April.
Winter equipment is compulsory on the Brenner motorway in South Tyrol (A22, section Brenner - Affi) from 15 November to 15 April. This requirement is fulfilled if, for example, you drive with winter tyres.
Attention:
During the summer months (16 May to 14 October), you may only drive in Italy with winter or all-season tyres if they have a speed index at least equal to that stated in the registration certificate Part I (box 15.1 / 15.2).
Generally, winter tires are not mandatory in Spain. Winter tires or snow chains are mandatory only in case of a specific public authority order or a specific road sign (in the mountains areas).
Studded tires are allowed. It is considered as winter tires.
Countries where the winter tires are not mandatory
Funded by the European Union. Views and opinions expressed are however those of the author(s) only and do not necessarily reflect those of the European Union or the European Innovation Council and Small and Medium-sized Enterprises Executive Agency (EISMEA). Neither the European Union nor the granting authority can be held responsible for them.