Travelling by ship or ferry in the EU: what are my rights?
If you take a ship or ferry to another EU Member State or if you come back by ship or ferry to an EU Member state with a European carrier, Europe gives you rights in case of cancellation or delay (regulation 1177/2010).
You have rights if you travel on a
Certified to carry more than 12 passengers;
Requiring more than 3 crew members;
Making a journey of more than 500m.
Non-mechanically propelled ships (sailing boats for example) or ships with a historical range are not concerned.
Also the regulation does not apply to excursion and sightseeing tours other than cruises
Booking a ship or ferry trip: practical advice
If you book a ship or ferry with your car, check the size limits carefully by including the roof boxes.
Present yourself sufficiently in advance for registration and possible customs formalities.
If you travel beyond French borders make sure you take your valid passport or identity card.
Minors are also required to travel with a valid identity document and an official authorization to leave the country country if they live in France and are not travelling with one of their parents. Further information on www.service-public.fr.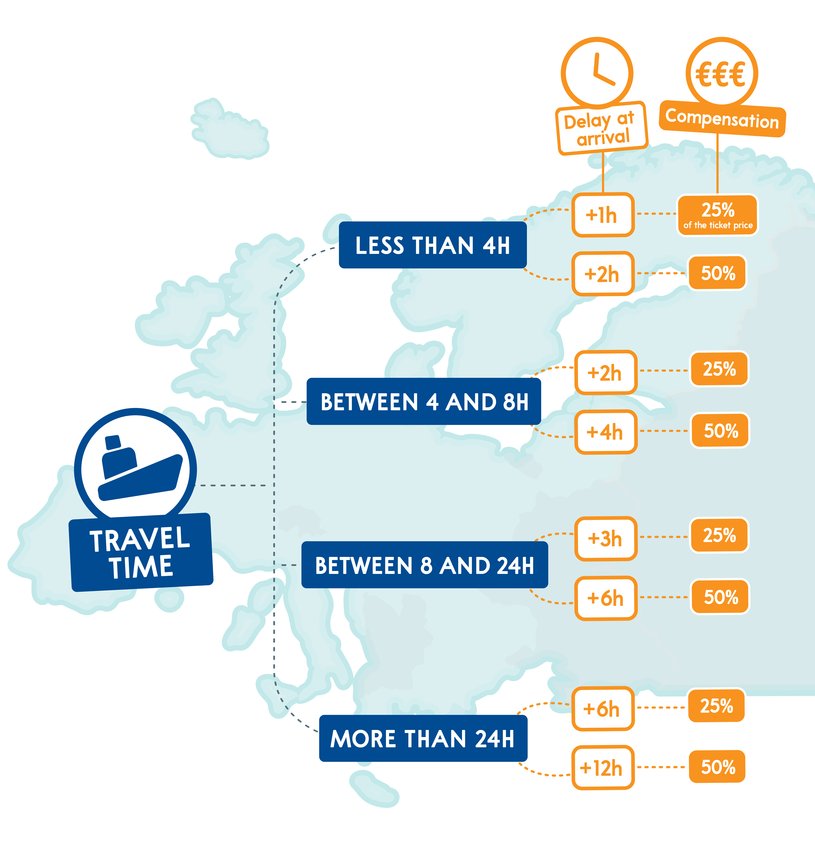 Delay during a ship trip: right to compensation?
In case of cancellation or a 90 mindelayat departure, you have the choice between:
Re-routing toyour final destination without extra charges, under similar conditions and in the shortest possible time;
Refund of the ticket (and if applicable, a free return to the initial departure point).
In case of delay at arrival, you are entitled to compensation according to the scale below
Delay of a ship or ferry: compensation is not due if...
Cancellation or delay were known before the purchase of the ticket
Cancellation or delay are due to passenger's fault
The carrier proves that the cancellation or delay is due to wheather conditions compromising the travel security or exceptional circumstances (strike by port staff, closure of the port...)
Delay or cancellation of a ship trip: ask for free assistance!
In case of trip cancelled or more than 90 min delay, you are entitled to:
Meals and drinks in reasonable quantity according to the waiting period,
Accommodation on board or ashore if necessary (with a limit of 3 nights and 80€ per night) and transport to get you there. Accommodation is not due if the cancellation or delay is due to weather conditions compromising the security of the travel or extraordinary circumstances.
Assistance is not due if:
The cancellation or delay was known before the purchase of the ticket
The cancellation or delay is due to passenger fault.
Other rights:
Compensation in case of sea accident according to the regulation 392/2009.
Access, information and care for passegers with reduced mobility.
Being informed before and during the trip about its proceedings as well as about passengers' rights.
Ship trip: how to get a reimbursement or compensation?
Send your claim in writing to the carrier within the 2 months following the trip. Summarize your trip incident and request reimbursement and/or a compensation based on it. Attach a copy of all documents supporting your claim.
The carrier has 1 month to acknowledge receipt of your complaint and 2 months from the date of acknowledgement to reply.
Whom to contact in case of problems during a ship or ferry trip?
Funded by the European Union. Views and opinions expressed are however those of the author(s) only and do not necessarily reflect those of the European Union or the European Innovation Council and Small and Medium-sized Enterprises Executive Agency (EISMEA). Neither the European Union nor the granting authority can be held responsible for them.