ECC-Net Travel application
While travelling in Europe, have your rights enforced!
Lost luggage, delayed flight, hotel room without sea view, broken down rental car... Holidays can quickly turn into a nightmare.
This is why, since 2 July 2014, all travellers in Europe can download the free application from the European Consumer Centres Network: "ECC-Net: Travel".
First of all, this App is meant to be a travel companion inside the European Union as well as in United Kingdom, Iceland and Norway. It helps consumers to overcome difficult situations on their holiday abroad and to exercise and express their consumer rights in the language of their destination country. Besides holiday trips this App is also very useful on business trips as well as during a semester abroad.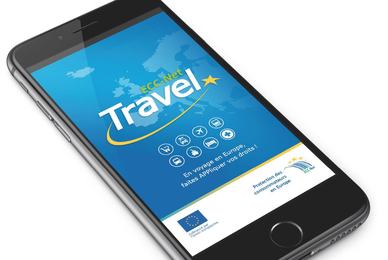 Purchase
Car rental
Plane
Train
Bus or coach
Ship or Ferry
Hotel
Health
Help and emergency
Bulgarian, Croatian, Czech, Danish, Dutch, English, Estonian, Finnish, French, German, Greek, Hungarian, Icelandic, Italian, Latvian, Lithuanian, Maltese, Norwegian, Polish, Portuguese, Romanian, Slovak, Slovenian, Spanish, Swedish.
When to use this application?
"ECC-Net: Travel" is an essential travel accessory within the European Union, just as United Kingdom, Iceland and Norway. This application is designed to help consumers deal with difficult situations while travelling abroad. On holidays or business trips abroad, thanks to this application, consumers can know their rights and make a complaint in the language of the country visited. Available in the 23 official European languages, as well as in Icelandic and Norwegian, 25 languages in total, this application provides travellers in Europe with all the useful information and practical advice in a variety of situations. In the event of a dispute with a European professional, the application also gives the contact details of the European Consumer Centres in the 28 EU countries, as well as in Iceland and Norway, which are responsible for informing consumers about their rights in Europe and helping them to settle cross-border consumer disputes amicably.
Funded by the European Union. Views and opinions expressed are however those of the author(s) only and do not necessarily reflect those of the European Union or the European Innovation Council and Small and Medium-sized Enterprises Executive Agency (EISMEA). Neither the European Union nor the granting authority can be held responsible for them.